With three projects currently in the works, the Discourse Analysis at William & Mary team is actively involved in the many phases of research.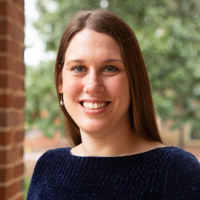 Led by Leslie Cochrane, senior lecturer of English and linguistics, and including research assistants Aubrey Lay '23, Ginny Helmandollar '24 and new member Megha Vasudevan '24, DA@W&M is working to produce knowledge while supporting positive change in the world.
The discourse analysis team's current projects focus on disability memes, pet discourse and Zoom video chat discourse. All three are in different phases, with the disability meme project recently reaching the presentation stage at conferences held by the Linguistic Society of America (LSA) and the American Anthropological Association (AAA).
"My experiences with discourse analysis showed me that you can do really powerful things and also have a really fantastic time doing them," said Alexandra Johnson '21, a recent graduate who worked on all three projects.
The team defines memes as intertextual, multimodal discourses that combine text and images and circulate online. In simpler terms, they're illustrations used on social media that are oftentimes meant to be humorous. Some oft-used examples are the image of a crying Michael Jordan or the "This is fine" dog.
The team's research examined memes on social media that may be intended to inspire but actually exploit the disabled community, and they compared those to the counter-narratives in memes posted by persons with disabilities themselves.
"We're talking about the choices that people within the disability community are making in order to express their lived experience, and we're using this data and showing people these memes even as we're talking about the broader conception of memes as a whole," Lay said.
For the pet discourse project, the discourse analysis team collected data related to written pet discourse found in the everyday environment. Examples include bumper stickers, mugs, T-shirts and signs. This data helped the team analyze patterns between data found in the U.S. and U.K. An abstract for this study has been submitted for a conference next fall, Cochrane said.
The team is also currently researching how people communicate on video chat platforms like Zoom. The goal of the study is to learn how people use language to talk about themselves and their lives and how video chatting over Zoom is similar and different to how we talk in person.
"We usually have several different projects going on, and I think that is a great way to do research," Cochrane said. "I think we have a good model for how to work collaboratively because everybody is involved in something, and if you're new to doing discourse analysis, then we will train you on the job so you pick up skills."
Meme Team Dream Team
The discourse analysis team members, who dubbed themselves the "Meme Team Dream Team," created a video for Homecoming & Reunion Weekend 2021 to illustrate inspirational disability memes and how they are hurtful to those in the disabled community. For example, there is one meme that shows a man in a wheelchair holding a basketball accompanied by the words, "The only disability in life is a bad attitude."
"People think it's a good thing, it's an inspirational thing, that it is perhaps even a thing that is kind and respectful to disabled people, that it is complimentary to say you're an inspiration for waking up in the morning," Cochrane said. "Instead, inspiration memes reveal low expectations for disabled people and objectify them to make non-disabled people feel good.
"The unknowing reinforcement of these stereotypes and some of the memes were really hard to look at, and my reaction as a linguist to encountering something that disgusted me was to say, 'OK, we have to analyze this and then we have to see if there's anything we can do to combat it."
Through a deep dive of social media channels, the team found that the disabled community used similar memes to refute the objectifying messages and negative ideologies being spread on social media.
"We actually had the really interesting finding that the disabled community is using intertextuality, which is that kind of connection with already existing things — things that are familiar, things that already have cultural power, the Drake memes, the SpongeBob memes, the different formats that are already really well known — to say you already know and trust this way of talking about things, you already understand what the humor might look like behind a meme like this," said Johnson, who was a part of the group that presented at the LSA and AAA conferences.
"Now this message that we're sending has additional power and has additional kind of widespread understandability because it's drawing on those already existing pieces of internet culture."
Disabled people who are meme creators are taking similar images and changing the message. And in the process, they're bringing awareness to the potential harmful effects of images and words on social media.
"We really were seeing that agency and the choice being made by these disabled creators, and I think that's what is so powerful about our research is that we're saying that memes are not just something silly and fun on the internet. They're something that people are using to communicate things, and it requires all of the same amount of choice and effort that other types of communication require," Johnson said.
"It takes these voices of disabled creators, and hopefully it's uplifting them and giving them legitimacy in a way, as well, through an academic lens, since they already are gaining legitimacy on their own simply by doing what they're doing as being great memes on the internet."
Cochrane says the next step for this project is to get it published in some form, perhaps in the proceedings of the Linguistic Society of America's annual meeting or an academic journal.
A good thing going
Helmandollar joined the discourse analysis team last year as a freshman and hit the ground running.
"Being able to join a full-fledged research group as a freshman was really such a great thing, and in less than a year I helped build a database and went to two conferences," Helmandollar said. "It's really unbelievable to think back on where I was before and all of the things I've accomplished since then because of this group."
Every member brings a different skillset to the research team.
"I didn't know how to build a website, but someone did," Cochrane said. "None of us knew how to build a customized database, but we all sat down and learned this summer, so there's a learning process going on for all of us, as well as the research."
Lay started doing research as a freshman working on a project with Chancellor Professor of Linguistics and English Jack Martin, and last spring he worked with the Project on International Peace and Security (PIPS) on a project that was related to the meme research he was doing with DA@W&M.
"We were looking at memes as a form of disinformation, and I was able to say, 'Hey policymakers, do you want to know why memes are important? Because I'm actually with a group that studies this,'" Lay said. "And that was a pretty fantastic way to tie things in.
"What's always really exciting about linguistics as a whole is it always gives us the opportunity to sort of take a peek under the hood of this facet of life, language, that we all just take for granted. This is kind of big picture, but I just get super jazzed about the fact that we're constantly looking at memes, and this is something that we have just accepted as a part of our everyday life, and now we get to say, well this is what they're actually doing.
"I would say undergraduate research is an amazing experience. I'm so grateful to be able to be producing knowledge with these wonderful people because that's what it's all about."
Nathan Warters, Communications Specialist