The following story originally appeared on the W&M Alumni Magazine website. – Ed.
The Kyiv that Nicole Skarpness '11 knew before Russia's invasion of Ukraine was a cosmopolitan city on the verge of global recognition as a destination for businesses and tourists, a place noted for its entrepreneurial spirit, youthful energy and bustling restaurant and bar scene.
"The things that were being built in the capital were like something that you would see in New York or Tokyo or Dubai, where you have this influx of culture and money," she says. "It's tragic to see a lot of that destroyed."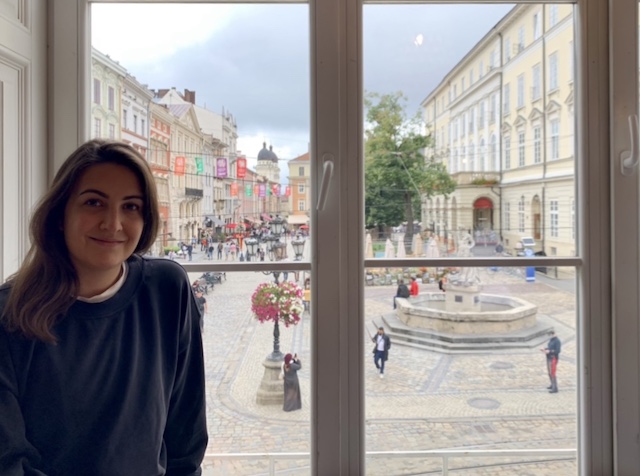 Skarpness was part of developing Kyiv's vibrant economic environment when she worked in Ukraine from July 2020 until November 2021 as a program management director with Chemonics International, supporting projects funded by the U.S. Agency for International Development (USAID). In that role, she assisted small and medium enterprises in emerging industries, such as women-owned fashion designers, small-scale farmers and tech companies with grants and technical assistance. Now based in Washington, D.C., Skarpness works on a project focused on food security and the movement of agricultural goods in and out of Ukraine.
Watching the strikes launched against Ukraine on Feb. 24, she worried about her friends and colleagues there. Her heart broke for the lost lives and shattered dreams.
"It's hard to sell clothes when your factory has been destroyed," Skarpness says. "And it's hard to continue working on your fashion label when all of your employees are scattered around as refugees and you've basically lost everything."
She knew she had to do something more to help those affected by the war. A few days after the invasion started, she learned that one of her former co-workers based in Ukraine was trying to raise $2,000 to provide supplies such as blankets, pillows, clothes and medicine for a group of families fleeing eastern regions that were under attack. So Skarpness shared the request with her social media networks.
"I received about $3,000 in a couple of hours," she says. "People were very willing to help with this need."
When donations exceeded the immediate request, Skarpness asked two Ukrainian co-workers if there were other needs. Yes, they told her: bulletproof vests and helmets for soldiers and medical volunteers, medicine and first-aid supplies, vehicles, food items, backpacks, flashlights, portable chargers for electronic devices. In just over a month, Skarpness has raised and spent more than $35,000 to purchase items or reimburse her co-workers for supplies they bought to support resistance efforts in Ukraine. She keeps a public spreadsheet to document the requests, donations and how the funds are spent.
In one instance, $262 covered the cost of fuel and drivers to transport children with disabilities from Ukraine to a safe location in Germany, and she purchased $1,000 worth of medicine which the driver then brought back to Ukraine. In another, Skarpness sent $1,000 to one of her favorite restaurants in Kyiv to use for preparing meals to serve troops, civilian volunteers and emergency service workers. She also paid for expenses when one of her co-workers recently traveled to Poland to pick up medicine and buy flour so that women in her village could prepare hundreds of dumplings — known as varenyky — to feed soldiers and volunteers.
With the help of fellow William & Mary alumnus Jasen Andersen '02, her former supervisor at Chemonics, she established a website called Druzi Ukraine ("druzi" means friends in Ukrainian) to better promote and manage her fundraising efforts.
Skarpness is not the only William & Mary alumnus doing work in or for Ukraine.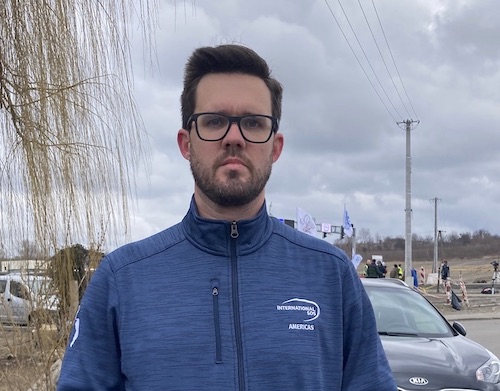 Tyler Hosford '09 (shown at left in Dorohusk, Poland) a Los Angeles-based security manager at International SOS, has been helping client firms and organizations — including Fortune 100 companies and nonprofit organizations — evacuate their employees from Ukraine. Valerie Hopkins '10 is a reporter for The New York Times working in Ukraine after the newspaper pulled its staff from Russia, where she was previously based in Moscow. She spoke in a March 24 virtual program sponsored by William & Mary's Reves Center on "Reporting From the War Zone in Ukraine." At times, Hopkins has worked alongside Brendan Hoffman '02, a photographer whose work appears in the New York Times and National Geographic. He was profiled in W&M Magazine's winter 2022 feature "The Other Side of the Lens."
All share a strong interest in international relations and a commitment to making a difference for people who are caught in perilous circumstances — either through individual assistance or by communicating their stories to the world.
Hosford, who has an undergraduate degree in history and East Asian Studies and received his master's degree in international security from Texas A&M University, says his William & Mary professors and classmates challenged him to look at geopolitical events from various angles and to consider historical context.
"There are obviously different perspectives, but you want to focus on the human element of these things, realizing that what happens at a geopolitical level has ramifications for an individual and for groups of people," he says. "The crisis in Ukraine, as an example, has so many intricacies to it. You first look at it and there's a very straightforward assessment, but then there are all these other questions: How did we get here? Why are different groups operating this way?"
As Russian troops massed at the Ukrainian border, Hosford's company sent a team to Ukraine in late January to assess routes and checkpoints and to identify drivers who could help with evacuation. On Feb. 12, the company warned clients to consider leaving the country.
From Feb. 26 to March 12, Hosford spent two weeks in Poland, the initial destination of many evacuees, visiting multiple border crossings, meeting with humanitarian aid groups to help coordinate medical services and assisting with further travel. While there, he saw thousands of refugees arriving from Ukraine each day by train, personal vehicle or on foot.
"Seeing the sheer number come across and just the overwhelming desire by people from everywhere to help in any way that they could was one of those restore-your-faith-in-humanity moments," he says.
He observed people from Germany, France, Portugal and Sweden greeting the refugees with signs written in Ukrainian such as, "Driving to Stockholm – space for five people to ride, three to sleep when we get there." Food trucks provided meals. Veterinarians offered checkups for pets. Lawyers and mental health professionals donated their services. Musicians played and sang. Volunteers arrived with diapers for babies and toys for children.
"When I was there, a statistic was floating around that there were close to a million Ukrainians sleeping in Poland that night and not one was in a refugee camp," Hosford says. "They were all staying in people's houses in guestrooms or on couches, wherever there was space."
Hopkins and Hoffman have been documenting the war's impact through their writing and photography. For one of her recent news stories, Hopkins reported on a woman she'd met from Mariupol who had spent her last week there taking shelter in a basement as bombs rained down outside and not eating so that her three daughters could have their only remaining food — one bowl of porridge a day.
"My responsibility is to provide the news and for me, that means also trying to focus it on the stories of ordinary people, and how they are experiencing this rather than what's happening at the summits," Hopkins says during her Reves Center talk. "I hope that connection, that ability to find some common ground with people, will resonate."
In late March, Hoffman held a print sale for some of the photographs he's taken in Mariupol since 2014. Half of the funds raised will go to the 24.02 Fund to provide safety equipment for Ukrainian journalists. Hoffman plans to use the other half to help pay for moving expenses as he and his wife, who is from Ukraine, temporarily relocate to Poland before the birth of their first child in June.
In a March 9 interview, NBC News' Lester Holt asked Hoffman what it's been like experiencing the war and covering it at the same time.
"I won't lie. It's been really hard," says Hoffman, who has lived in Kyiv for eight years and left his home on the second day of the war. "I had to take some time off just to process it."
This weekend, Skarpness plans to visit Poland to see her boyfriend, who helped his parents flee Eastern Ukraine just before the war started and meet with friends, co-workers and others she's been helping. She hopes one day she'll be able to go back to Ukraine and perhaps live there.
Destruction from the war has hit close to home, however. A house that her boyfriend built with his own hands was destroyed in the bombing and his parents, who lived about 20 miles from the Russian border, learned that their house was damaged by airstrikes and their neighbors lost their homes.
"I think the country will need people who are willing to go back to invest in the local economy work with Ukrainian businesses," Skarpness says. "I love Ukraine. It really is a very beautiful, welcoming, warm country."