Rinabeth Apostol wrote a one-woman show and will perform another in seeking to bring the Asian American experience to the stage at William & Mary.
Apostol is serving as distinguished theatre fellow for the university's Asian Centennial this academic year. Roberto Jamora in fine arts and Marissa Aroy in film are also centennial arts fellows.
Apostol is of Filipino descent and is a San Francisco-based actor and singer. Since childhood growing up with activist parents, she has built a career across a wide range of talents. But acting for live audiences is her favorite, she said.
Apostol collaborated with Francis Tanglao Aguas, professor of theatre and Asian and Pacific Islander American studies and co-chair of the Asian Centennial committee, on workshopping a solo show this past fall. Aimed to premiere during Filipino American History Month, "Little Brown Girl" was performed Oct. 12 and 13 at the Kimball Theatre. Apostol visited several classes to talk with students about acting.
She will perform the show again at the Muscarelle Museum of Art on a date to be announced when she returns to campus this spring, as well as reprising her role in "The Chinese Lady" on April 3 at 2 p.m. at the Williamsburg Regional Library Theatre.
Being offered the fellowship was "definitely one of the few glimmers of hope that I saw and was able to experience during 2020," Apostol said, as theatres closed during COVID-19.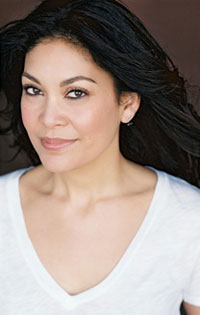 "There really wasn't any work for any artists unless you were trying to fill the void by posting on social media or finding a Zoom play, which I was involved in a few, which actually were really great because it broadened our typical reach," Apostol said.
She has appeared in theaters across the country including American Conservatory Theater, Actors Theater of Louisville, Seattle Rep, TheatreWorks, California Shakespeare Theatre, The Magic, Arizona Theater Company. Her offstage work ranges from television guest star roles to musical cast recordings, independent films, commercials, web series, voice over and motion capture.
"I love the idea of having the audience as another character in the storytelling," Apostol said. "And that's something that … just harkens to me just because there's a different level of connection that you get with the people who are in the theater with you when you can hear their breath."
Her desire to dive deeper into character work on stage stems from a childhood rooted in social justice and activism, Apostol said. She wanted to play substantive characters whom she could connect with on a different level.
With "Little Brown Girl," Aguas asked her to take on the new challenge of writing a one-woman show based on her own life.
"I realized that there were things that I never acknowledged that actually assisted me in becoming who I am and the performer that I am," Apostol said. "And I also came to this very strange realization that it was very easy for me to write about traumatic experiences in my life that I had never really addressed fully or publicly. And I realized that all of the successes and the joy that I experienced were also wonderful things that I wanted to celebrate."
Her performance in Lloyd Suh's "The Chinese Lady" this spring will reprise the role she played in the 2019 San Francisco premiere of the play, which is historical fiction based on the life of Afong Moy who is believed to be the first Asian woman to migrate to the U.S.
The show features only Moy and her male supervisor, with Moy speaking 95% of the dialogue. The character ages from 14 when she is brought over on a ship from China to 40 when she becomes too old to perform as a museum piece and disappears, and into old age as the show progresses.
"I think it was just something Francis became very interested in having me do just because of the themes that the play explores," Apostol said. "And then we have actually selected the play even prior to everything that began to come up regarding Asian hate. It just became topical and relevant in ways that we didn't realize."
Jennifer L. Williams, Communications Specialist