For their unfailing attention to detail, dedication and compassion for others, William & Mary will honor Student Unions & Engagement Set Crew Supervisor Ray Burks and Economics Department Fiscal Coordinator Kathy O'Brien with the 2022 Charles and Virginia Duke Award.
The award recognizes "outstanding employees for exemplary individual accomplishments in their professional lives and service to the William & Mary community." Burks and O'Brien will officially be recognized at Commencement on May 20-21.
Ray Burks
In his 26 years at W&M, Burks worked briefly in several jobs before settling in as the set crew supervisor for Sadler Center as well as supporting Campus Center and outdoor activities. He had previously spent four years in the Army, which he said serves him well.
"Coming from a military background, you like to see things go right," Burks said. "You want to make sure they do. So my mindset is pretty much is to think that each and every day that I come to work."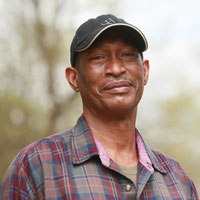 He and a small group that includes student workers take plans and set up furniture according to how the client wants a room configured for an event. Sometimes multiple setups a day are required in the same space, with spare pieces organized and stored.
Describing Sadler Center as the heartbeat of student engagement, Associate Vice President for Student Engagement and Leadership Drew Stelljes wrote in his nomination letter that more than 10,000 events occur there yearly with Burks responsible for the set for each one.
"Over the 25 years of the Sadler Center being in operation, Ray has assisted with, provided oversight or completed all of the room sets," Stelljes wrote. "He always greets people with a smile even when he's altogether swamped with activity."
During the pandemic, Burks has stepped up time and again to go out of his way to re-create, re-design, build, assemble, paint or drive to purchase items for the student experience, Stelljes wrote. "He is the implementor behind most of the activity for activating the outdoor space," he added.
Burks also mentors and serves as a listening ear for student employees as he takes a special interest in not only adding to their education but supporting them when needed.
"For a lot of the students it's sometimes their first job, coming from home, being independent for the first time," Burks said. "So they get a little bit more structure working with us. They pick up a lot.
"Sometimes they may have (personal) issues going on, and I'm pretty sure it helps them just by talking to somebody on the outside looking in, as opposed to if there's something going wrong with their academics. They're feeling really bad for themselves, and then they've got to turn around and share this with their parents about things that are going on with them. So it's good to have a talk."
Nominators described Burks as an upbeat, flexible presence who is supportive and encouraging of everybody in the midst of hectic schedules and numerous moving parts. He is anchored by a student-centered philosophy while liaising between numerous groups all over campus, including clients and student employees.
"What separates Ray in particular is his capacity to lift people up and inspire others during periods of adversity," Richard Thompson, associate director in the Office of Community Engagement and Burks' former supervisor, wrote in his nomination letter, adding that the epitome of Burks is "seeing the positive and determining what we can do in the service to others."
Taking on additional duties during COVID-19 and figuring out how to set up the outdoor areas for activities just as he had previously the indoors was the ultimate example of a pivot.
"We watch his good deeds and his work ethic, and it inspires us to be better," Stelljes wrote. "We're better because of Ray. Ray is a man of consistent focus for the greater good."
It's clear that Burks is bringing much more than placement of banquet tables, chairs and podiums to campus each day.
"Ray is at William & Mary because he believes in our ability to change the world together," wrote Eric Margiotta, director of Student Unions & Engagement. "Ray has dedicated his W&M career to service — boundary-transcending service to faculty, staff, students and the William & Mary community as a whole."
Burks' love of his role and the people he works with on campus is evident.
"Right now, even though the masks are there, I enjoy hearing someone smile, of course, and a thank you," Burks said. "That's the best part of the job."
Kathy O'Brien
Whoever shows up at her door gets help with what they need, O'Brien said.
Nothing could be more true, according to faculty members in the economics department who rely on her for a combination of fiscal, administrative and general management.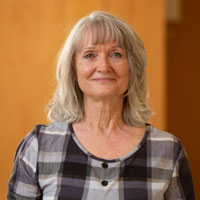 "We do a little bit of everything," O'Brien said. "When you're in an academic department, there isn't just one thing you do. You do whatever comes up. And you just figure it out and you do it. So it's a lot of processes."
Now in her 27th year at W&M, O'Brien has worked in numerous departments but has spent most of her years in English and economics. She has served on committees and mentored new administrative employees and worked everything from clearing copier jams on weekends during finals to planning events to testing out new programs and systems.
"I enjoy the faculty and the students," O'Brien said. "They're all unique, and I've worked with a lot of them across the campus. And you just learn to understand them and what their needs are. And then hopefully you can assist them through what they need."
Organization, accuracy and timing are important in her role, she said.
"It's just part of what I do, and so it comes naturally," O'Brien said. "You just sit down in the morning and you look at your to-do list and you look at your schedule, and you say, OK, this is what I have to do today. Hopefully I'll get it all done."
Sarah Stafford, CSX Professor of Economics and Public Policy and department chair for economics, described O'Brien in her nomination letter as "generous with her time and she makes sure that individual faculty members have what they need to be effective in their classrooms. She is also extremely patient and helpful with the students she serves."
This includes typically more than 300 economics majors at any given time, approximately 60 minors plus interdisciplinary students, according to Stafford.
O'Brien's duties include managing faculty searches and people administration, serving as dossier manager for faculty members who have tenure and promotion and interim reviews and assisting with faculty travel plans. On a recent morning, she helped a student find a major advisor.
She serves as building administrator for all of Chancellors Hall, which is where economics is located.
"Everything she does, she does to make the lives of our students, faculty and staff easier and more rewarding," Stafford wrote.
Mark Greer, visiting assistant professor of economics, in his letter described O'Brien starting her workday extremely early to arrange all the furniture back to where it belongs and offering to pack up and move his office two separate times while he was overseas.
"On countless occasions, Ms. O'Brien has undertaken efforts extending well beyond what anyone could reasonably expect of her in order to assist my colleagues and me as we attempt to perform our duties," Greer wrote. "I cannot imagine that we have a staff member more conscientious, dedicated and caring than she."
Associate Professor of Economics and Public Policy Peter McHenry referenced the numerous processes O'Brien helps with in his letter.
"Kathy is incredibly meticulous in her work and seems to do everything correctly," McHenry wrote. "She always knows which account can pay for what, which form I need to complete for permission to do something and when something just isn't going to be approved."
The contexts of myriad bureaucracy "are made much more bearable with perspicacious guidance from an expert like Kathy. She makes our faculty more productive every day."
On hearing such praise, O'Brien shrugged and smiled.
"I just think of myself as just a department administrator trying to get the job done," she said, "and do whatever it takes to do it. I think most of us do that."
Jennifer L. Williams, Communications Specialist