Mellody Hobson, chair of the Starbucks board of directors and a nationally recognized voice on financial literacy, will speak at William & Mary's 2022 Commencement ceremony.
Hobson, who formerly served as chair of DreamWorks Animation, will also receive an honorary degree from the university at the event, along with William & Mary alumna Rep. Stephanie Murphy '00 (D-Fla.), the first Vietnamese-American woman elected to the U.S. Congress.
This year's undergraduate Commencement ceremony is scheduled to take place at 7 p.m. on May 20 in Zable Stadium. A ceremony for graduate and professional students will be held May 21 at 9 a.m. in the same location.
Hobson, who serves as co-CEO and president of Ariel Investments and chair of the board of trustees for the Ariel Investment Trust, was originally scheduled to speak at W&M's Commencement ceremony in May 2020. That event was postponed due to the COVID-19 pandemic. She instead provided remarks for the virtual degree conferral, which the university streamed online. The Class of 2020 had an in-person Commencement ceremony on campus in fall 2021, along with the Class of 2021.
"We are thrilled to welcome Mellody Hobson to campus in person at long last – and delighted that she will celebrate the accomplishments of our graduating class with us," said W&M President Katherine A. Rowe. "She is an extraordinary businesswoman who generously gives of her expertise to improve the financial literacy of people around the world, laying the groundwork for a better future for all of us.
"It will be a special pleasure, as well, to welcome Congresswoman Murphy back to campus as we celebrate the university's Asian Centennial. She made history as the first Vietnamese-American woman elected to U.S. Congress, and her legacy will be her leadership and service to the nation. While we are proud to claim her as an alumna already, it is an honor to recognize her inspiring public service in this way."
In addition to Hobson, W&M Chancellor Robert M. Gates '65, L.H.D. '98, will speak at both Commencement ceremonies. The events are part of a weekend full of activities, including departmental receptions, affinity group ceremonies and other W&M traditions. A schedule of events is available on the W&M website.
Mellody Hobson
In her current role as co-CEO of Ariel Investments, Hobson is responsible for managing all areas of the company outside of research and portfolio management. As chair of the Board of Trustees, she leads the company's publicly traded mutual funds. Prior to becoming co-CEO, Hobson served as Ariel's president for nearly 20 years. In 2015, Time Magazine named her one of the world's "100 Most Influential People."
Hobson has served on the boards of multiple international businesses and currently serves as a director of JPMorgan Chase. In December 2020, she was named the non-executive director of the Starbucks board of directors, becoming the first Black woman to hold that position. She previously chaired the board of DreamWorks Animation and was also a longstanding board member of the Estée Lauder Companies.
An advocate for financial literacy, she has long shared her knowledge and experience on the national stage. She has researched minority investing patterns and writes a column for Black Enterprise Magazine. She has also been a contributor on CBS News and for ABC's "Good Morning America." Her 2014 TED Talk "Color Blind or Color Brave?" has more than 4 million views.
Throughout her career, Hobson has sought ways to give back to the community. She chairs After School Matters, a nonprofit for teens in Chicago. She is also vice chair of World Business Chicago, co-chair of the Lucas Museum of Narrative Art, a board member of the George Lucas Education Foundation and a board member for the Center for Strategic & International Studies and Los Angeles County Museum of Art.
Hobson received her undergraduate degree from Princeton University and last year, was awarded the school's highest honor: the Woodrow Wilson Award. Hobson also has honorary degrees from Howard University, Johns Hopkins University, St. Mary's College and the University of Southern California. In 2018, the governor of Illinois awarded her the Order of Lincoln — the state's highest honor.
Rep. Stephanie Murphy '00
An immigrant and refugee from Vietnam, Murphy was the first woman in her family to attend college. During her time at William & Mary, she was a member of the Chi Omega sorority, a Japanese House resident and a research assistant. She also studied abroad and served on the Student Alumni Council.
After graduating from W&M with a bachelor's degree in economics, she went on to receive a master's degree in foreign service from Georgetown University. She returned to W&M in 2018 to serve as speaker for the university's Opening Convocation ceremony.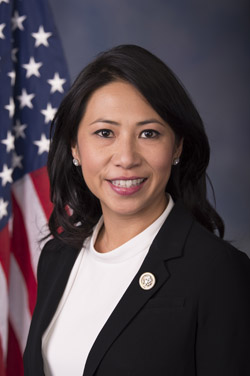 As a congresswoman in the U.S. House of Representatives, Murphy represents Florida's Seventh Congressional District, which includes Seminole County and much of northern Orange County, including downtown Orlando. She is a member of the House Ways and Means Committee, serving on the Subcommittee on Trade and the Subcommittee on Worker and Family Support. She is also a member of the House Armed Services Committee, where she is vice chair of the Subcommittee on Intelligence and Special Operations and a member of the Subcommittee on Tactical Air and Land Forces. Since 2021, she has served on the bipartisan Select Committee to Investigate the January January 6th Attack on the United States Capitol.
Before being elected to Congress, Murphy worked as a businesswoman, college instructor and consultant. She also served as a national security specialist in the Office of the U.S. Secretary of Defense, where she received multiple accolades including the Secretary of Defense Medal for Exceptional Civilian Service.
Registering for and attending events at William & Mary conveys a shared expectation of abiding by university policy, which is subject to change as conditions warrant. As of March 29, 2022, masking is optional both indoors and outdoors, with masking especially encouraged in large gatherings. Masks are required for students visiting the Student Health Center, for staff in the clinic, and for anyone using public transportation. COVID-19 vaccination and boosters are strongly encouraged for all William & Mary students, employees and external visitors, in alignment with Centers for Disease Control and Prevention guidance. We create these shared expectations of event participants in keeping with William & Mary's core values of Belonging within this community and Respect for one another as individuals, and in recognition of the risks inherent to gathering amid pandemic.
Erin Jay, Senior Associate Director of University News