Benjamin Crump, a civil rights leader and attorney who has represented such clients as the families of Trayvon Martin and Michael Brown, will speak at William & Mary's 2022 Dr. Martin Luther King Jr. Commemoration.
The event, which will take place at 7 p.m. on Feb. 9 in the Sadler Center, is being hosted by the Center for Student Diversity and the Honor and Conduct Councils as part of Ethics Week. The program also is co-sponsored by W&M Law School, the Student Assembly and Alma Mater Productions.
Tickets are required and are available here. While most of the tickets are reserved for the W&M community, a limited number are available to the public. Doors open at 6:30 p.m.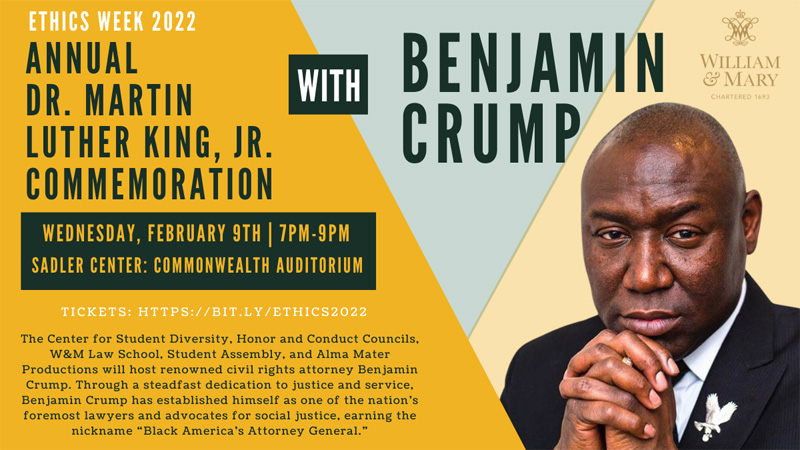 The founder and principal owner of Ben Crump Law, Crump has been involved in many high-profile civil rights cases. In addition to the families of Martin and Brown, Crump has represented the family of Stephon Clark, who was killed by police in 2018; residents of Flint, Michigan, who were affected by the poisoned water of the Flint River; and nine of the 13 Black women who were victims in the 2015 Oklahoma City Police rape case with Daniel Holtzclaw. Crump also worked on the precedent-setting U.S. Supreme Court Case involving excessive police force against Robbie Tolan in 2008. His work has led to legislation aimed at preventing excessive force and to the creation of implicit bias training and policies.
The founder and director of the Benjamin Crump Social Justice Institute, Crump currently serves as the president of the National Civil Rights Lawyers Association and was previously president of the National Bar Association. He was the first African American to chair the Florida State University College of Law Board of Directors and is a current member of the Innocence Project Board of Directors.
Crump has received myriad accolades for his work. He was named the 2014 National Newspaper Publishers Association (NNPA) Newsmaker of the Year and was counted among the National Trial Lawyers: Top 100 and Ebony Magazine's Power 100 Most Influential African Americans. He was also honored with the NAACP Thurgood Marshall Award, the Southern Christian Leadership Conference (SCLC) Martin Luther King Servant Leader Award, the American Association for Justice Johnnie Cochran Award and the Alpha Kappa Alpha Eleanor Roosevelt Medallion for Service.
He is a frequent contributor on national news networks and other media outlets, has hosted several TV docudramas and served as executive producer of the documentary "Woman in Motion." Crump's book, "Open Season: Legalized Genocide of Colored People," was published in 2019.
Registering for and attending events at William & Mary conveys a shared expectation of abiding by university policy, which is subject to change as conditions warrant. As of February 1, 2022, those requirements include appropriately masking indoors in shared spaces, except when actively eating or drinking in designated areas. Anyone not properly wearing masks indoors may be asked to leave. Masks outdoors are optional and encouraged in large gatherings. COVID-19 vaccination and boosters are strongly encouraged for all William & Mary students, employees and external visitors, in alignment with Centers for Disease Control and Prevention guidance. We create these shared expectations of event participants in keeping with William & Mary's core values of Belonging within this community and Respect for one another as individuals, and in recognition of the risks inherent to gathering amid pandemic.
Erin Jay, Senior Associate Director of University News