Lawrence B. Pulley '74, longtime dean of William & Mary's Raymond A. Mason School of Business and an academic and administrative leader at the university for more than three decades, has announced his plans to retire on June 30, 2022.
Pulley, who also serves as the T.C. and Elizabeth Clarke professor at the university, has worked at William & Mary since joining the faculty of the business school in 1985. He has served as dean since 1998.
"The one thing that has filled my heart as I have anticipated sharing this news is 'gratitude,'" said Pulley. "Being dean of the Mason School of Business has been far and away the highlight of my career, and I am so very grateful to have had the opportunity."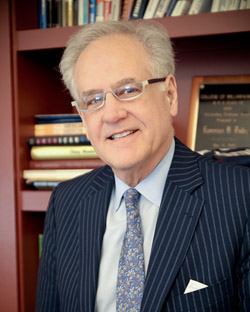 Under Pulley's leadership, the business school has expanded significantly, both in its physical footprint and the scope of its offerings and revenue-generating programs. It moved to a new building and added additional degree programs to better prepare students for the evolving landscape of today's business world.
"Dean Pulley has led the business school through more than two decades of significant growth and innovation: providing our students with a world-class education, an entrepreneurship mindset, and the wide-ranging network they need to succeed," said President Katherine A. Rowe. "We are forever grateful for his service to alma mater. William & Mary will see the ripple effects of his values-driven leadership on our university, among our alumni, and the business world for generations to come."
Throughout his time at the business school, Pulley led with a values-based approach that he termed "principled achievement," which focuses on striving for excellence while making a difference in the world.
As dean, Pulley oversaw the design, funding and construction of Alan B. Miller Hall, which brought together undergraduate and graduate business programs under one roof for the first time. The Leed Gold-certified building, which opened in 2009, was made possible with $50 million in private donations, with the total project costing around $75 million.
While the business school's physical presence grew on campus, so did its academic offerings. Within the past decade, the school launched five new online degree programs and a new residential Master of Science in Business Analytics degree. The new programs were made possible in part by the school's significant financial investment in online education, including a $10 million Center for Online Learning. Under Pulley's leadership, the business school also increased its outreach to veterans, creating a new Center for Military Transition as part of the university's Veteran-to-Executive Transition (VET) initiative and launching a "Flourishing in Life Transitions" certificate program. Additionally, the business school partnered with the U.S. Army's Training and Doctrine Command to create the Major General James Wright MBA Fellowship for active-duty military members.
Pulley also oversaw the creation of the Executive Partners network, a volunteer corps of more than 100 senior business executives from over 30 industries and across every business functional area. The Executive Partners are personally matched with business students to support them through coaching, mentorship and leadership development. The partners share their insights, experiences and real-world perspectives with faculty and students to enhance the W&M learning experience.
"We have become 'best practice' among business schools in engaging alumni and business leaders to work side-by-side with our faculty, program teams and executive partners to help our students become truly career-ready — and to connect them to world-class opportunities," Pulley said.
Pulley received his undergraduate degree in math and economics from William & Mary and a doctorate in economics from the University of Virginia. Before returning to W&M as a faculty member, he served as an assistant professor of economics at Brandeis University and as a visiting professor at the University of Virginia and Wellesley College. At W&M, Pulley served as an associate professor, associate dean, professor and interim dean before taking on his current role.
He has received multiple awards for his teaching and service at W&M, including the Dean's Executive MBA Teaching Award, the Daniel C. Lewis Award for Exceptional Service and the Outstanding Professor Award presented by the MBA Class of 1989. Pulley's scholarship focuses on banking industry structure and regulation, international payments and portfolio management. He has published numerous academic articles and was the co-author of a piece that won an international IBM-sponsored paper competition on using mathematics to solve banking problems. Pulley has been awarded multiple research grants, including several from the National Science Foundation and U.S. Navy.
"For more than two decades, William & Mary benefited from a dean who 'had it all,'" Provost Peggy Agouris said. "Dean Pulley is a talented researcher, mentor, professor, leader, and has been an inspiration to countless students and alumni, faculty members and community partners. He dedicated his professional life to expanding William & Mary's capacities at the business school and instilling strong, ethical principles in a generation of business leaders."
William & Mary will conduct a national search for the next business dean, Agouris said, and a committee of faculty, staff, students and alumni will be named soon.
Pulley said he will miss working with students, faculty and staff and is grateful for the partnership and support of university colleagues and alumni.
"I am so thankful for the friendships and partnerships that developed over several decades," Pulley said. "We have such talented and creative students and faculty, dedicated staff and a leadership team that understands what is necessary to prepare students to succeed in a changing business world. I am especially grateful for the early and ongoing support of President Rowe and Provost Agouris and will be working closely with them to ensure a smooth transition."
Following retirement, Pulley said he is looking forward to spending more time with his wife, Penny, and children and doing more traveling.
"William & Mary will always be part of our lives, now and in the future," Pulley said. "It is simply time to give this wonderful opportunity I have had for the past 24 years to someone else, and to turn my attention to other things."
Erin Jay, Senior Associate Director of University News