Glenn Youngkin, Virginia's governor-elect, will speak at William & Mary's 2022 Charter Day ceremony, slated for Feb. 11 in Kaplan Arena.
Youngkin, who had a successful career in finance before entering public office, will receive an honorary degree from the university, along with U.S. Rep. Robert "Bobby" Scott and Howard Busbee '65, J.D. '67, M.L.T. '68, an emeritus clinical professor in the Mason School of Business, former president of the W&M Alumni Association and chair of the W&M Foundation.
Charter Day is an annual tradition that celebrates the university's founding in 1693 by royal charter. This year's ceremony, which starts at 4 p.m., will mark the university's 329th "birthday."
"We look forward to a lively Charter Day in this, our 329th spring. We will celebrate our community and set a course for W&M's future through Vision 2026," said W&M President Katherine A. Rowe. "We welcome Governor-elect Youngkin to that celebration while he plans for the future of the commonwealth. We are also pleased to honor Congressman Scott for his extraordinary career of public service and Howard Busbee – who has served in nearly every volunteer leadership role at William & Mary – for his commitment to his alma mater and our students."
Glenn Youngkin
Prior to his election campaign, Youngkin had a long career in finance, starting as a consultant with McKinsey & Company before spending 25 years with the Carlyle Group, which he helped grow into one of the world's largest private equity firms.
During his time with Carlyle, Youngkin's achievements included turning around underperforming operations, heading the global industrial group, opening the company's London offices and launching many of its European-based funds. He retired from Carlyle as co-president in 2020 before beginning his run for governor.
He was elected as Virginia's 74th governor in November 2021 and will be inaugurated on Jan. 15, 2022. William & Mary has traditionally invited the commonwealth's newest governor to speak at Charter Day and receive an honorary degree during their first year in office.
In addition to his work in finance, Youngkin has served the community as a basketball coach for youth teams and a board member of such organizations as the Virginia Ready Initiative, Virginia Tech's Innovation Campus Advisory Board, the Museum of the Bible and the Meadowkirk Retreat Center. He is a member of the Business Council and the American Enterprise Institute's National Council.
Growing up in Richmond and Virginia Beach, he received a basketball scholarship to attend Rice University, where he earned a degree in engineering. He went on to earn a Master in Business Administration degree from Harvard Business School. Learn more about Youngkin on his website.
Howard J. Busbee '65, J.D. '67, M.L.T. '68
A former faculty member and dean at the Mason School of Business, Busbee spent 33 years as a tax partner with PricewaterhouseCoopers, before turning to higher education for his second career. At PWC, he served in multiple roles, including southeast regional tax director and a member of the Board of Partners.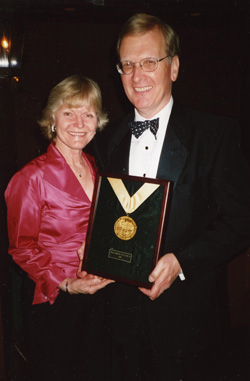 He received his undergraduate degree in accounting from W&M as well as J.D. and Master of Law and Taxation degrees. In 2001, he joined W&M's Mason School of Business as assistant dean of the Master of Accounting and Undergraduate Business programs. He became a full-time instructor in 2005.
A dedicated alumnus and father of two W&M alumni, Busbee has been active in many of the university's leadership groups. In addition to being current vice chair and past chair of the William & Mary Real Estate Foundation, he is a former president of the W&M Alumni Association, chair of the W&M Foundation and chair of the Olde Guarde Council, as well as a member of several other alumni support groups. He is currently co-chair of the Robert Boyle Legacy Society. For his service, he has received the Alumni Medallion and W&M Law School's Citizen Lawyer Award. Named in his honor, the Howard J. Busbee Finance Academy teaches W&M undergraduates about careers in finance and provides them opportunities to connect with professionals.
In addition to his work at W&M, Busbee has been an engaged member of the community, serving as president or chair of such organizations as the Atlanta Tax Forum and the Richmond Private Business Study Group and as an emeritus trustee of the Williamsburg Community Health Foundation and the Foundation for Hospital Art. More on Busbee is available on the W&M Mason School of Business website.
Congressman Robert C. "Bobby" Scott
As a member of the U.S. House of Representatives, Scott represents Virginia's third congressional district. Prior to assuming that role in 1993, he served as a member of Virginia's General Assembly.
Scott attended Harvard College and Boston College Law School and began his legal career in Newport News where he practiced law from 1973 to 1991. He served as a member of Virginia's House of Delegates from 1978 to 1983, when he was elected to Virginia's Senate. He was the first African-American elected to Congress from Virginia since Reconstruction and the second ever in Virginia's history.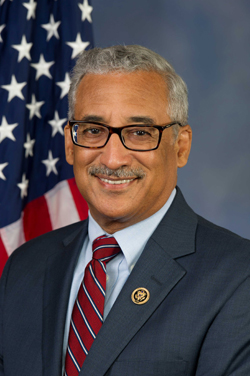 He is currently chairman of the Committee on Education and Labor and a member of the Committee on the Budget. He previously served as the ranking member of the Committee on Education and the Workforce and chairman and ranking member of the Subcommittee on Crime, Terrorism and Homeland Security for the Committee on the Judiciary, among other positions. Among his legislative efforts, he was one of four authors on the Every Student Succeeds Act, which took the place of the No Child Left Behind Act, and sponsored the All Healthy Children Act. He also co-authored the Safe, Accountable, Fair and Effective (SAFE) Justice Act.
He has been an advocate for military readiness and shipbuilding and has received multiple accolades, including being named by The Hill among the 25 hardest-working members of Congress. Read more on Scott's website.
Registering for and attending events at William & Mary conveys a shared expectation of abiding by university policy, which is subject to change as conditions warrant. As of February 1, 2022, those requirements include appropriately masking indoors in shared spaces, except when actively eating or drinking in designated areas. Anyone not properly wearing masks indoors may be asked to leave. Masks outdoors are optional and encouraged in large gatherings. COVID-19 vaccination and boosters are strongly encouraged for all William & Mary students, employees and external visitors, in alignment with Centers for Disease Control and Prevention guidance. We create these shared expectations of event participants in keeping with William & Mary's core values of Belonging within this community and Respect for one another as individuals, and in recognition of the risks inherent to gathering amid pandemic.
Erin Jay, Senior Associate Director of University News